UDC invites proposals for the Acquisition and Development, in line with the local planning authority's regulations of Lots 1, 2 and 3, Lands Part of Mammee Bay, Saint Ann, registered at Volume 611, Folio 55, to facilitate a commercial development, described under the caption "The Property " below. Lots may be purchased en-bloc or individually, however it is the responsibility of the proponent to indicate clearly which lot(s) they wish to acquire. That is offers can be made for one (1), two (2) or all three (3) parcels.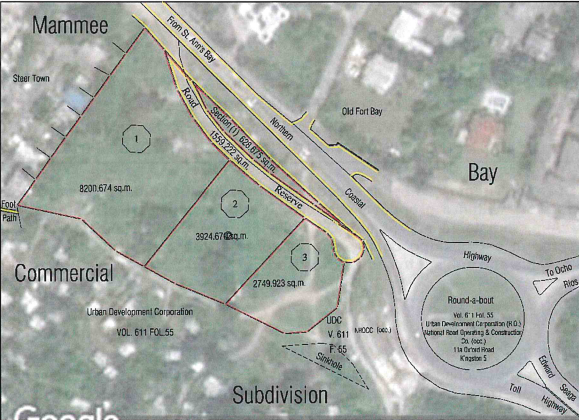 SITE CHARACTERISTICS
The property is located at the round-about intersection for the Edward Seaga Highway on the coastal main road from Ocho Rios to Drax Hall at Mammee Bay immediately across from the entrance to Old Fort Bay, an upper income gated seaside community. It is accessible from a sterile segment of the old main road along its northern boundary. The property is bounded generally as follows:
· North: by the North coast highway;
· South: by lands part of Mammee Bay being an informal low-income settlement;
· East: by the roundabout intersection of Edward Seaga Highway entrance;
· West: by lands part of Mammee Bay being an informal low-income settlement.
Applicants are invited to submit offers in accordance with the procedures stipulated in the Information Memorandum Document (IMD). The IMD is available on the UDC's website at http://www.udcja.com/investments-opportunities, as of July 5, 2021, and also at the address below between the hours of 9:00 a.m. and 4:30p.m., Monday to Friday or upon payment of a non-refundable fee of $3,500.00 by cash or Manager's Cheque payable to the Urban Development Corporation.
Proposals should be labelled "Request for Proposal, Sale of Commercial Lots, Mammee Bay, St Ann and addressed to:
The Director
Strategic Sourcing & Procurement Department
7th Floor Urban Development Corporation
12 Ocean Boulevard
Kingston Mall, Kingston
Proposals must be deposited by Thursday, September 16, 2021 no later than 2:00 p.m., in the appropriately labelled Tender Box, located on the Ground Floor of the Office Centre Building, 12 Ocean Boulevard, Kingston Mall. Proposals submitted after this time and date will be automatically rejected.
The opening of proposals will commence at 2:15 p.m. on the same day on the Ground Floor of the Office Centre Building.
The Urban Development Corporation reserves the right to withdraw this opportunity at any time. The Corporation also reserves the right not to accept the highest or any offer submitted.
Enter details below to download memorandum:
Files will also be emailed after completion of the form.