The Urban Development Corporation (UDC) invites Proposals for the Acquisition and Development, in line with the local planning authority's regulations, of 2 Lots, Lands part of Success Estate, Montego Bay, St. James for the purpose of resort/residential use. Lots are being sold individually.
| | |
| --- | --- |
| Size | Registered at |
| 28.46 Acres (11.52 Hectares) | Volume 1227 Folio 879 |
| 40 Acres (16.2 Hectares) | Volume 1227 Folio 879, 883; Volume 1502 Folio 626 |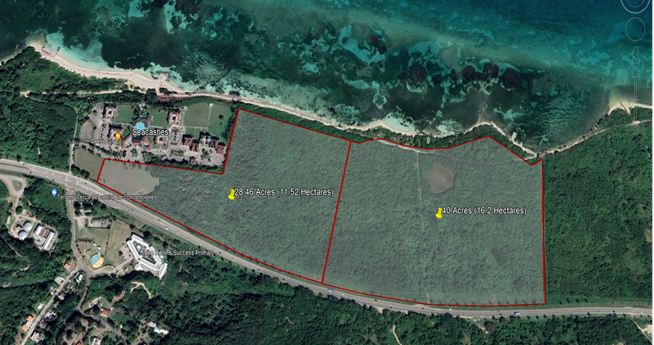 Success Estate is situated approximately 2.6 km east of the Montego Bay Convention Centre in the vicinity of Sea Castles. The property is bounded as follows:
North: Caribbean Sea
South: North Coast Highway
East: Land registered at Vol 1525 Folio 546 (Currently being developed)
West: Sea Castles Apartments
Applicants are required to submit offers in accordance with the procedures stipulated in the information Memorandum Document (IMD). The IMD is available on the UDC's website at https://udcja.com/tenders-rfps-and-leases/ as of 12:00 pm on June 21, 2023 and also from the address below between the hours of 9:00 a.m. and 4:00 p.m., Monday to Friday for a non-refundable fee of J$3,500, payable by cash or manager's cheque in the name Urban Development Corporation.
The deadline for submission of proposals is 2:00 pm on August 24, 2023. An official public opening of proposals will commence at 2:15 p.m. on the same day. Proposals submitted after the deadline will not be accepted. This is a competitive bid process.
All offers are to be deposited into the appropriately labelled tender box located at the Ground Floor, 12 Ocean Boulevard, Kingston and labelled with the lot size of interest and "Request for Proposal, Sale of Resort lots, Success Estate, St. James". Sealed envelopes are to be addressed to "The Director, Strategic Sourcing & Procurement Department, 7th Floor, Urban Development Corporation, 12 Ocean Boulevard. Kingston".
Enquiries, requests and all correspondences relating to this offer are to be directed to the Addressee above at tenders@udcja.com or call Tel: (876) 656-8031; Fax: (876) 922-9326.
The Urban Development Corporation (UDC) is not bound to accept the highest or any offer; and reserves the right, without prior notice and in its absolute discretion, to change or terminate the tender process at any time before the signing of the contract.